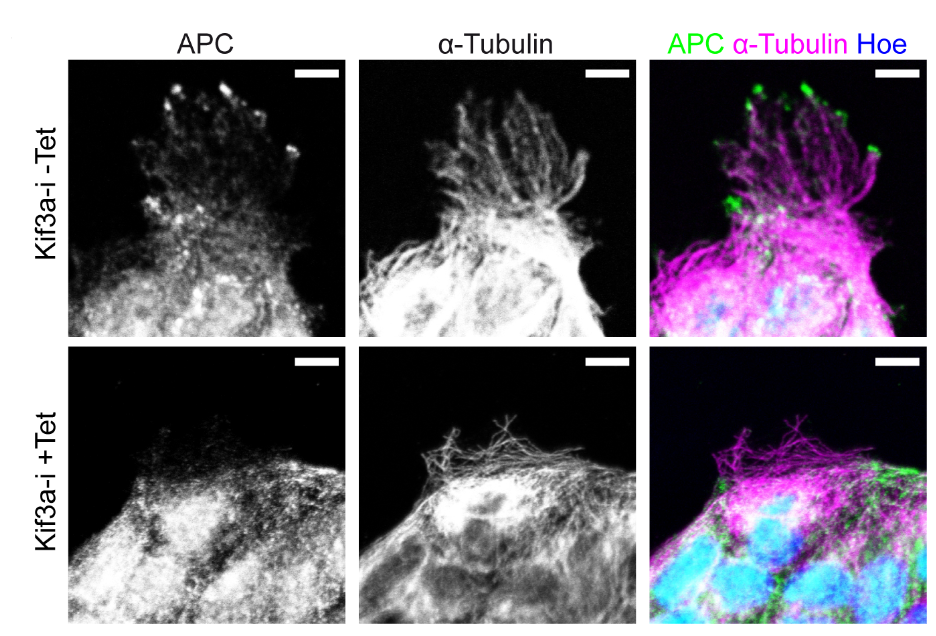 Contributor Information
Name

Walter Bodmer

Institute

Cancer Research UK, London Research Institute: Lincoln's Inn Fields
Tool Details
Tool name:

Anti-APC [Ali 12-28]

Clone:

Ali 12-28

Tool type:

Antibodies

Tool sub-type:

Primary antibody

Class:

Monoclonal

Conjugate:

Unconjugated

Reactivity:

Human

Host:

Mouse

Cancer type:

Colorectal

Molecular weight of the target:

310 kDa

Application:

WB ; ELISA ; IHC ; IF ; IP ; WB

Strain:

Balb/c

Description:

Ali 12-28 may be used for the detection of APC expression and APC mutations.

Immunogen:

N-terminal APC-MBP fusion protein

Isotype:

IgG1

Research area:

Cancer ; Cell Cycle ; Cell Type or Organelle Marker ; Cell Signaling & Signal Transduction ; Epigenetics & Nuclear Signalling ; Neurobiology ; Stem Cell Biology



For Research Use Only
Target Details
Target:

Adenomatous Polyposis Coli (APC)

Target molecular weight:

310 kDa

Target background:

The adenomatous polyposis coli (APC) tumour suppressor gene is mutated (often by deletion of the C-terminal portion of APC) in the inherited disease, familial adenomatous polyposis (FAP), and in over 80% of colorectal cancers.
Application Details
Application:

WB ; ELISA ; IHC ; IF ; IP ; WB
Handling
Format:

Liquid

Concentration:

1 mg/ml

Storage buffer:

PBS with 0.02% azide

Storage conditions:

-15°C to -25°C

Shipping conditions:

Shipping at 4°C
Related Tools
References
•

Hadjihannas et al. 2012. EMBO Rep. 13(4):347-54. PMID: 22322943.

•

Cell cycle control of Wnt/?-catenin signalling by conductin/axin2 through CDC20.

•

Valvezan et al. 2012. J Biol Chem. 287(6):3823-32. PMID: 22184111.

•

Tanneberger et al. 2011. J Biol Chem. 286(22):19204-14. PMID: 21498506.

•

Structural and Fn characterization of the Wnt inhibitor APC membrane recruitment 1 (Amer1).

•

Arnold et al. 2009. EMBO J. 28(5):500-12. PMID: 19131971.

•

The Axin1 scaffold protein promotes formation of a degradation complex for c-Myc.

•

Efstathiou et al. 1998. Proc Natl Acad Sci U S A. 95(6):3122-7. PMID: 9501226.

•

Intestinal trefoil factor controls the expression of the adenomatous polyposis coli-catenin and the E-cadherin-catenin complexes in human colon carcinoma cells.