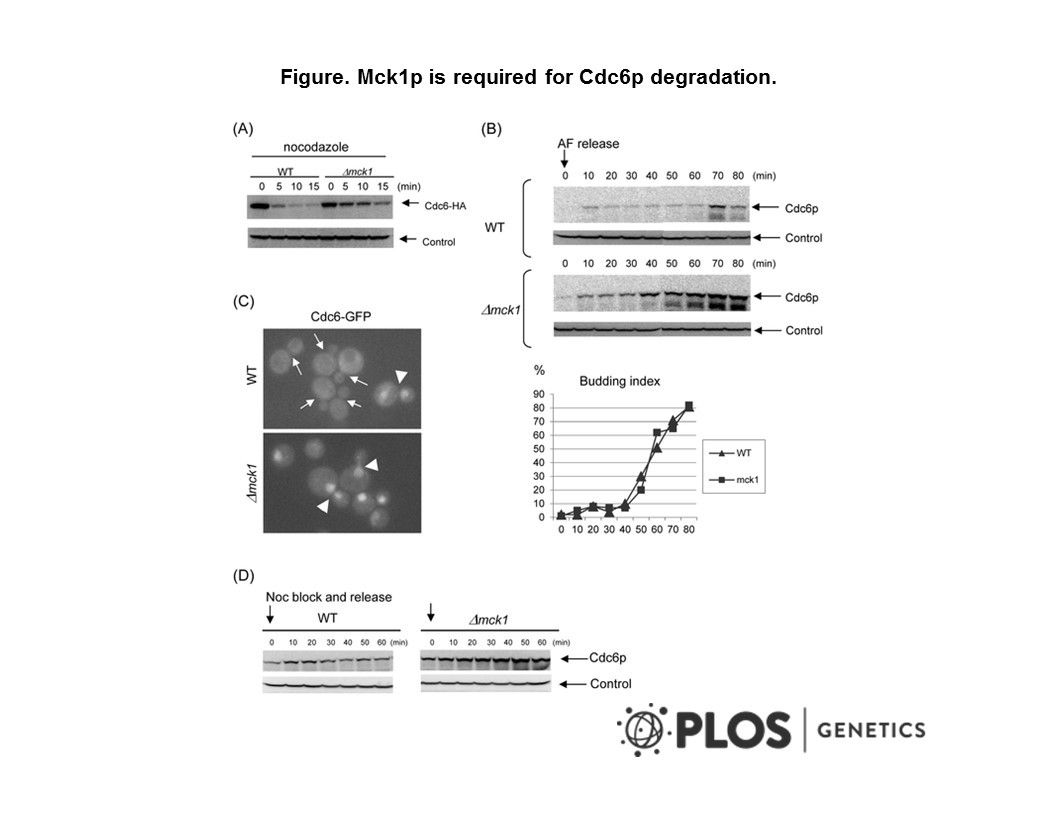 Contributor Information
Institute

Cancer Research UK, London Research Institute: Clare Hall Laboratories
Tool Details
Tool name:

Anti-Cdc6 [cdc6 9H8/5]

Alternate names:

Cell Division Cycle 6; Cdc18-Related Protein; CDC6-Related Protein; P62(Cdc6); HsCDC18; CDC18L; HsCDC6; CDC6 Cell Division Cycle 6 Homolog

Clone:

cdc6 9H8/5

Tool type:

Antibodies

Tool sub-type:

Primary antibody

Class:

Monoclonal

Conjugate:

Unconjugated

Reactivity:

Saccharomyces cerevisiae

Host:

Mouse

Application:

IHC ; IP ; WB

Description:

Cdc6 is essential for assembling the pre-replicative complex that forms at origins of DNA replication in the G1 phase of the cell cycle in budding yeast (S. cerevisiae).

Immunogen:

cdc6 from S.Cerevisiae.

Isotype:

IgG1

Research area:

Cell Cycle; Epigenetics & Nuclear Signalling



For Research Use Only
Target Details
Target:

Cell-division cycle protein 6 (cdc6)

Target background:

Cdc6 is essential for assembling the pre-replicative complex that forms at origins of DNA replication in the G1 phase of the cell cycle in budding yeast (S. cerevisiae).
Application Details
Application:

IHC ; IP ; WB
Handling
Format:

Liquid

Concentration:

1 mg/ml

Storage buffer:

PBS with 0.02% azide

Storage conditions:

-15°C to -25°C

Shipping conditions:

Shipping at 4°C
References
•

Evrin et al. 2013. Nucleic Acids Res. 41(5):3162-72. PMID: 23376927.

•

A yeast GSK-3 kinase Mck1 promotes Cdc6 degradation to inhibit DNA re-replication.

•

Ikui et al. 2012. PLoS Genet. 8(12):e1003099. PMID: 23236290.

•

Zhang et al. 2007. Cancer Res. 67(8):3827-34. PMID: 17440097.

•

Tumor necrosis factor receptor 1/c-Jun-NH2-kinase signaling promotes human neoplasia.

•

Perkins et al. 2001. EMBO J. 20(17):4836-45. PMID: 11532947.

•

Separate SCF(CDC4) recognition elements target Cdc6 for proteolysis in S phase and mitosis.

•

Donovan et al. 1997. Proc Natl Acad Sci U S A. 94(11):5611-6. PMID: 9159120.

•

Cdc6p-dependent loading of Mcm proteins onto pre-replicative chromatin in budding yeast.