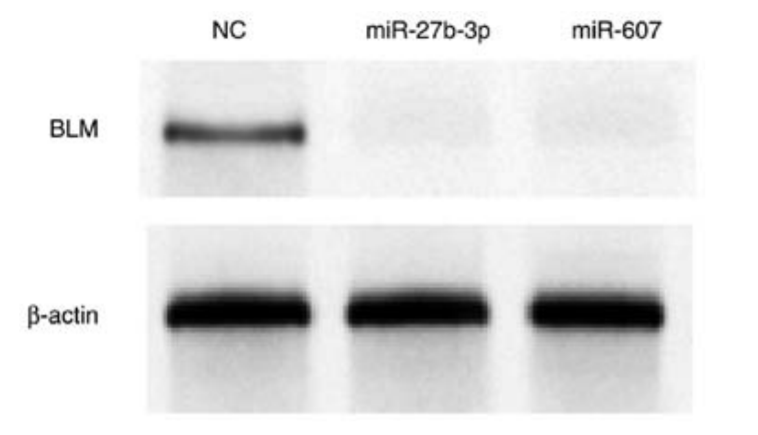 Contributor Information
Name

Helen Turley

Institute

University of Oxford
Tool Details
Tool name:

Anti-BLM [BFL 103]

Clone:

BFL 103

Tool type:

Antibodies

Tool sub-type:

Primary antibody

Class:

Monoclonal

Conjugate:

Unconjugated

Reactivity:

Human

Host:

Mouse

Application:

WB ; ELISA ; IHC ; IF ; WB

Strain:

Balb/c

Description:

BLM is the product of the Blooms syndrome gene and belongs to the RecQ family of DNA helicases. BLM is associated with an increase in the incidence of many types of cancer at an early age.

Immunogen:

Recombinant Full Length Bloom's Protein

Isotype:

IgG1

Research area:

DNA Damage and Repair

Myeloma used:

P3/NS1/1-Ag4.1



For Research Use Only
Target Details
Target:

Bloom's Syndrome Protein (BLM)

Target background:

BLM is the product of the Blooms syndrome gene and belongs to the RecQ family of DNA helicases. BLM is associated with an increase in the incidence of many types of cancer at an early age.
Application Details
Application:

WB ; ELISA ; IHC ; IF ; WB
Handling
Format:

Liquid

Concentration:

0.9 mg/ml

Storage buffer:

PBS with 0.02% azide

Storage conditions:

-15°C to -25°C

Shipping conditions:

Shipping at 4°C
Related Tools
References
•

Chen et al. 2019. Mol Med Rep. 19(6):4819-4831. PMID: 30957187.

•

Zhu et al. 2008. J Biol Chem. 283(43):29405-15. PMID: 18708356.

•

Small ubiquitin-related modifier (SUMO) binding determines substrate recognition and paralog-selective SUMO modification.

•

Turley et al. 2001. Br J Cancer. 85(2):261-5. PMID: 11461087.

•

The distribution and expression of the Bloom's syndrome gene product in normal and neoplastic human cells.

•

Wu et al. 2000. J Biol Chem. 275(13):9636-44. PMID: 10734115.

•

The Bloom's syndrome gene product interacts with topoisomerase III.