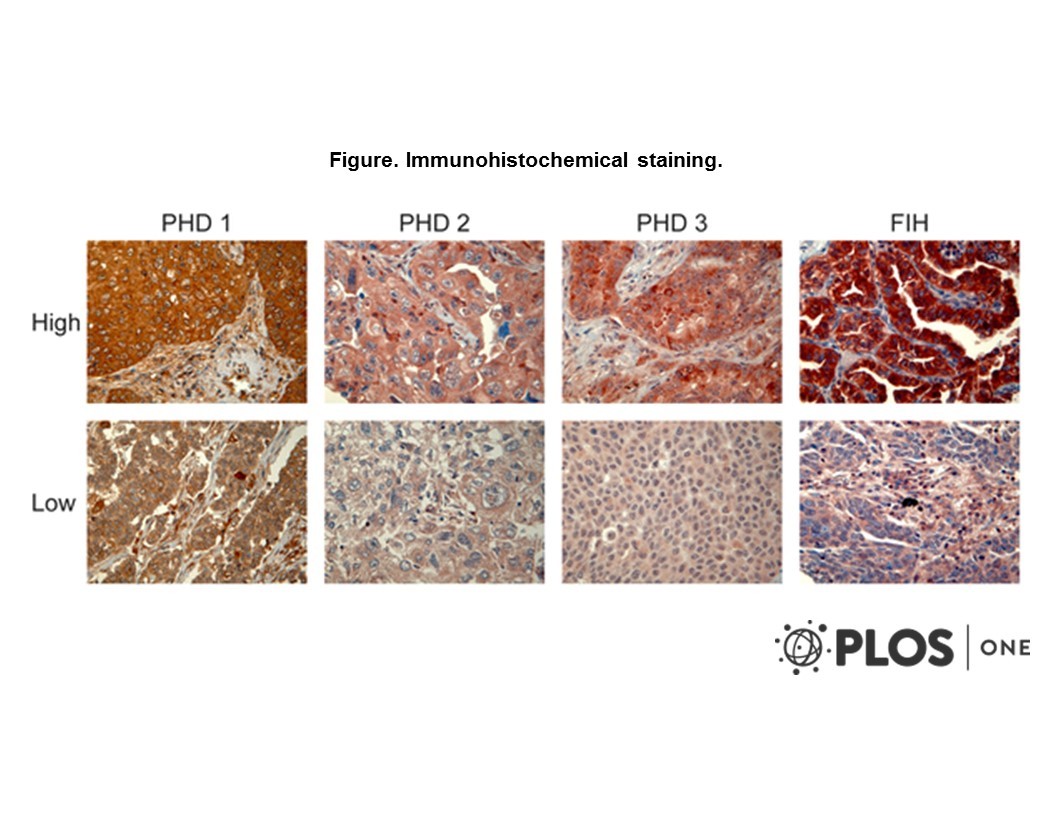 Contributor Information
Name

Helen Turley

Institute

University of Oxford
Tool Details
Tool name:

Anti-PHD1 [PHD112/G7]

Clone:

PHD112/G7

Tool type:

Antibodies

Tool sub-type:

Primary antibody

Class:

Monoclonal

Conjugate:

Unconjugated

Reactivity:

Human

Host:

Mouse

Molecular weight of the target:

43.6 kDa

Application:

IHC ; WB

Strain:

Balb/c

Description:

PHD1 catalyzes the posttranslational formation of 4-hydroxyproline in hypoxia-inducible factor (HIF) alpha proteins and hydroxylates HIF-1 alpha at Pro-402 and Pro-564, and HIF-2 alpha. It functions as a cellular oxygen sensor and, under normoxic conditions, targets HIF through the hydroxylation for proteasomal degradation via the von Hippel-Lindau ubiquitylation complex. It may play a role in cell growth regulation.

Immunogen:

Full length recombinant human PHD1

Isotype:

IgM

Research area:

Cancer; Epigenetics & Nuclear Signalling; Metabolism

Myeloma used:

P3/NS1/1-Ag4.1



For Research Use Only
Target Details
Target:

Prolyl Hydroxylase 1 (PHD1)

Target molecular weight:

43.6 kDa

Target background:

PHD1 catalyzes the posttranslational formation of 4-hydroxyproline in hypoxia-inducible factor (HIF) alpha proteins and hydroxylates HIF-1 alpha at Pro-402 and Pro-564, and HIF-2 alpha. It functions as a cellular oxygen sensor and, under normoxic conditions, targets HIF through the hydroxylation for proteasomal degradation via the von Hippel-Lindau ubiquitylation complex. It may play a role in cell growth regulation.
Handling
Format:

Liquid

Concentration:

1 mg/ml

Storage buffer:

PBS with 0.02% azide

Storage conditions:

-15°C to -25°C

Shipping conditions:

Shipping at 4°C
Related Tools
References
•

Andersen et al. 2011. PLoS One. 6(8):e23847. PMID: 21887331.

•

Overexpression of the HIF hydroxylases PHD1, PHD2, PHD3 and FIH are individually and collectively unfavorable prognosticators for NSCLC survival.

•

Soilleux et al. 2005. Histopathology. 47(6):602-10. PMID: 16324198.

•

Use of novel monoclonal antibodies to determine the expression and distribution of the hypoxia regulatory factors PHD-1, PHD-2, PHD-3 and FIH in normal and neoplastic human tissues.

•

Stolze et al. 2004. J Biol Chem. 279(41):42719-25. PMID: 15302861.

•

Appelhoff et al. 2004. J Biol Chem. 279(37):38458-65. PMID: 15247232.

•

Genetic analysis of the role of the asparaginyl hydroxylase factor inhibiting hypoxia-inducible factor (FIH) in regulating hypoxia-inducible factor (HIF) transcriptional target genes [corrected].

•

Differential function of the prolyl hydroxylases PHD1, PHD2, and PHD3 in the regulation of hypoxia-inducible factor.