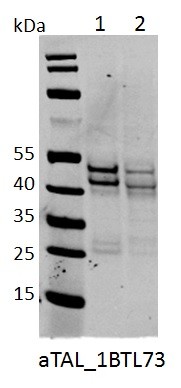 Contributor Information
Name

Karen Pulford

Institute

University of Oxford
Tool Details
Tool name:

Anti-TAL1 [BTL73]

Clone:

BTL73

Tool type:

Antibodies

Tool sub-type:

Primary antibody

Class:

Monoclonal

Conjugate:

Unconjugated

Reactivity:

Human

Host:

Mouse

Application:

ChIP ; ELISA ; IHC ; WB

Description:

Monoclonal antibody which stains 3 forms of TAL1 in the cytoplasm and nuclei of cells.

Immunogen:

TAL-1 recombinant protein

Immunogen UniProt ID:

P17542

Isotype:

IgG1

Research area:

Cancer ; Cell Cycle ; Developmental Biology ; Epigenetics & Nuclear Signalling ; Stem Cell Biology

Myeloma used:

P3/NS1/1-Ag4.1



For Research Use Only
Target Details
Target:

TAL1

Target background:

Monoclonal antibody which stains 3 forms of TAL1 in the cytoplasm and nuclei of cells.
Application Details
Application:

ChIP ; ELISA ; IHC ; WB
Handling
Format:

Liquid

Concentration:

1 mg/ml

Storage buffer:

PBS with 0.02% azide

Storage conditions:

Store at -20°C frozen. Avoid repeated freeze / thaw cycles

Shipping conditions:

Shipping at 4°C
References
•

Christophersen et al. 2017. Sci Rep. 7:40451. PMID: 28084402.

•

Farrell et al. 2011. Blood. 117(18):4935-45. PMID: 21385855.

•

A 3-bp deletion in the HBS1L-MYB intergenic region on chromosome 6q23 is associated with HbF expression.

•

Goardon et al. 2002. Blood. 100(2):491-500. PMID: 12091340.

•

Ectopic expression of TAL-1 protein in Ly-6E.1-htal-1 transgenic mice induces defects in B- and T-lymphoid differentiation.

•

Delabesse et al. 1998. Br J Haematol. 102(2):449-57. PMID: 9695959.

•

TAL1 expression does not occur in the majority of T-ALL blasts.

•

Bernard et al. 1995. Blood. 85(11):3356-7. PMID: 7756670.

•

Nuclear localization of the SCL/TAL1 basic helix-loop-helix protein is not dependent on the presence of the basic domain.

•

Pulford et al. 1995. Blood. 85(3):675-84. PMID: 7833471.

•

Expression of TAL-1 proteins in human tissues.