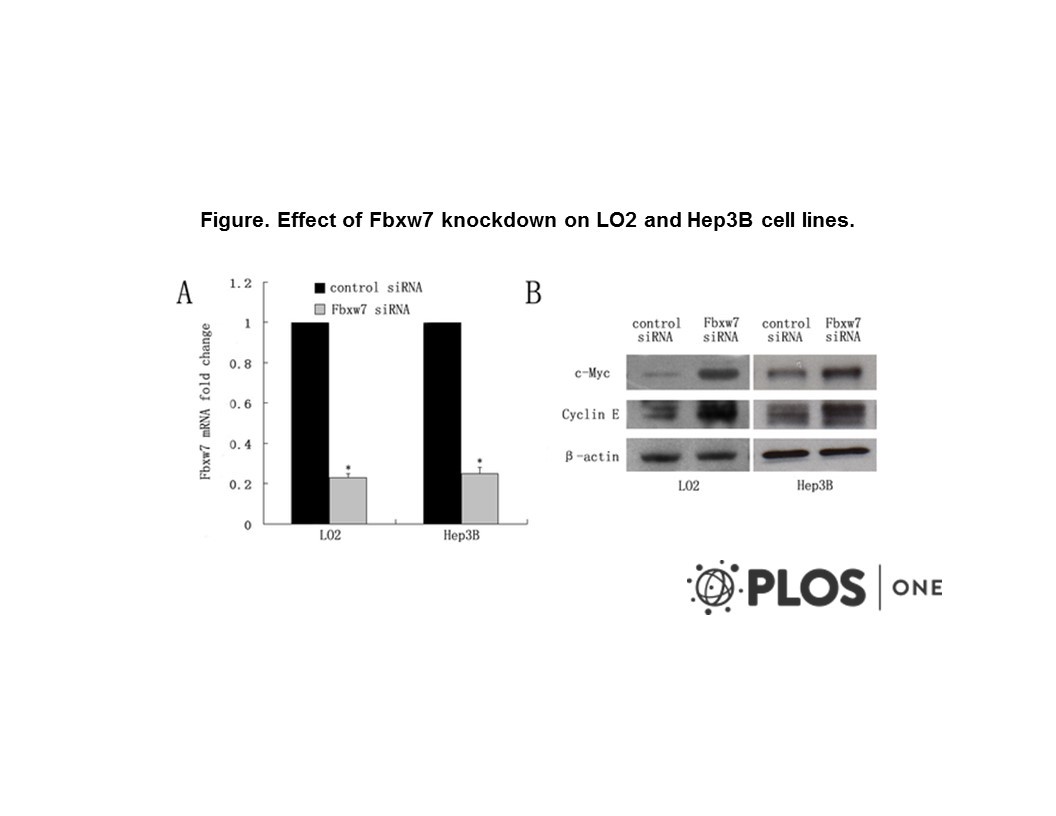 Contributor Information
Institute

Cancer Research UK, London Research Institute: Lincoln's Inn Fields
Tool Details
Tool name:

Anti-FBW7 [FBOX 3a9/1]

Alternate names:

F-Box And WD Repeat Domain Containing 7; F-Box Protein FBX3; SEL-1; Fbx3; HCdc4; FBW7; Hago; Homolog Of C Elegans Sel-1; F-Box Protein SEL-1; Archipelago Homolog; F-Box Protein FBW7; Archipelago; FBXO3; FBXW6; CDC4; FBW6; AGO

Clone:

FBOX 3a9/1

Tool type:

Antibodies

Tool sub-type:

Primary antibody

Class:

Monoclonal

Conjugate:

Unconjugated

Reactivity:

Human ; Mouse

Host:

Mouse

Application:

FACS ; IHC ; IF ; IP ; WB

Description:

SCF (Skp, Cullin, F-box containing complex) ubiquitin ligases regulate the degradation of many proteins involved in the control of cell division and growth. F-box proteins are the SCF components that bind to substrates, and this binding is usually signaled by substrate phosphorylation. The FBW7/Cdc4 F-box protein was first recognized by its ability to bind cyclin E, and the SCF (FBW7) is now known to target c-Myc, c-Jun and Notch for degradation in addition to its role in cyclin E proteolysis. FBW7 thus negatively regulates several key oncoproteins. Accordingly, FBW7 is a tumor suppressor that is mutated in a wide spectrum of human cancers, and FBW7 functions as a haplo-insufficient tumor suppressor in mice.

Immunogen:

Synthetic peptide of human sequence

Isotype:

IgG1

Research area:

Cancer ; Protein Degradation

Myeloma used:

Sp2/0-Ag14



For Research Use Only
Target Details
Target:

F-box/WD repeat-containing protein 7 (FBW7, Cdc4)

Target background:

SCF (Skp, Cullin, F-box containing complex) ubiquitin ligases regulate the degradation of many proteins involved in the control of cell division and growth. F-box proteins are the SCF components that bind to substrates, and this binding is usually signaled by substrate phosphorylation. The FBW7/Cdc4 F-box protein was first recognized by its ability to bind cyclin E, and the SCF (FBW7) is now known to target c-Myc, c-Jun and Notch for degradation in addition to its role in cyclin E proteolysis. FBW7 thus negatively regulates several key oncoproteins. Accordingly, FBW7 is a tumor suppressor that is mutated in a wide spectrum of human cancers, and FBW7 functions as a haplo-insufficient tumor suppressor in mice.
Application Details
Application:

FACS ; IHC ; IF ; IP ; WB
Handling
Format:

Liquid

Concentration:

1 mg/ml

Storage buffer:

PBS with 0.02% azide

Storage conditions:

-15°C to -25°C

Shipping conditions:

Shipping at 4°C
References
•

Tu et al. 2013. PLoS One. 8(7):e68574. PMID: 23840897.

•

Recombinant human adenovirus-p53 injection induced apoptosis in hepatocellular carcinoma cell lines mediated by p53-Fbxw7 pathway, which controls c-Myc and cyclin E.

•

Nateri et al. 2004. Science. 303(5662):1374-8. PMID: 14739463.

•

The ubiquitin ligase SCFFbw7 antagonizes apoptotic JNK signaling.