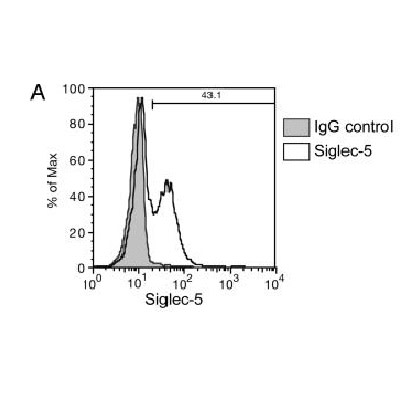 Contributor Information
Name

Paul Crocker

Institute

University of Dundee
Tool Details
Tool name:

Anti-SIGLEC5 [1A5]

Alternate names:

Sialic Acid Binding Ig Like Lectin 5; Obesity-Binding Protein 2; OB-Binding Protein 2; CD33 Antigen-Like 2; SIGLEC-5; CD33L2; OBBP2; Sialic Acid-Binding Immunoglobulin-Like Lectin 5; CD17 Antigen;

Clone:

1A5

Tool type:

Antibodies

Tool sub-type:

Primary antibody

Class:

Monoclonal

Conjugate:

Unconjugated

Reactivity:

Human

Host:

Mouse

Application:

IHC ; ELISA ; FACS ; IHC ; IF ; IP ; Fn ; WB

Description:

The Siglecs are a family of membrane bound lectins (of the immunoglobulin superfamily) that bind sialic acid and mediate cell-cell interactions. Siglec5 (CD170) is a member of the recently-described human CD33-related siglec subgroup of sialic acid binding Ig-like lectins and is expressed on myeloid cells of the hemopoietic system. Similar to other CD33- related siglecs, Siglec-5 contains two tyrosine based motifs in its cytoplasmic tails implicated in signalling functions. The antibody cross reacts with Siglec14.

Immunogen:

Siglec-5-Fc protein, containing entire extracellular region of siglec-5 fused with the Fc region of human IgG1

Isotype:

IgG1

Research area:

Adhesion ; Cell Type or Organelle Marker ; Immunology

Myeloma used:

Sp2/0-Ag14



For Research Use Only
Target Details
Target:

Siglec5

Target background:

The Siglecs are a family of membrane bound lectins (of the immunoglobulin superfamily) that bind sialic acid and mediate cell-cell interactions. Siglec5 (CD170) is a member of the recently-described human CD33-related siglec subgroup of sialic acid binding Ig-like lectins and is expressed on myeloid cells of the hemopoietic system. Similar to other CD33- related siglecs, Siglec-5 contains two tyrosine based motifs in its cytoplasmic tails implicated in signalling functions. The antibody cross reacts with Siglec14.
Application Details
Application:

IHC ; ELISA ; FACS ; IHC ; IF ; IP ; Fn ; WB
Handling
Format:

Liquid

Concentration:

1 mg/ml

Storage buffer:

PBS with 0.02% azide

Storage conditions:

-80°C

Shipping conditions:

Shipping at 4°C
References
•

Angata et al. 2006. FASEB J. 20(12):1964-73. PMID: 17012248.

•

Discovery of Siglec-14, a novel sialic acid receptor undergoing concerted evolution with Siglec-5 in primates.

•

Nguyen et al. 2006. Proc Natl Acad Sci U S A. 103(20):7765-70. PMID: 16682635.

•

Loss of Siglec expression on T lymphocytes during human evolution.

•

Avril et al. 2005. J Biol Chem. 280(20):19843-51. PMID: 15769739.

•

Siglec-5 (CD170) can mediate inhibitory signaling in the absence of immunoreceptor tyrosine-based inhibitory motif phosphorylation.

•

Connolly et al. 2002. Br J Haematol. 119(1):221-38. PMID: 12358929

•

Human Siglec-5: tissue distribution, novel isoforms and domain specificities for sialic acid-dependent ligand interactions.

•

Cornish et al. 1998. Blood. 92(6):2123-32. PMID: 9731071.

•

Characterization of siglec-5, a novel glycoprotein expressed on myeloid cells related to CD33.