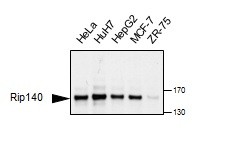 Contributor Information
Name

Bill Gullick

Institute

Imperial Cancer Research Fund
Tool Details
Tool name:

Anti-RIP140 [6D7]

Clone:

6D7

Tool type:

Antibodies

Tool sub-type:

Primary antibody

Class:

Monoclonal

Conjugate:

Unconjugated

Reactivity:

Human ; Mouse ; Rat

Host:

Mouse

Application:

ChIP ; ELISA ; IF ; IP ; WB

Immunogen:

Recombinant human RIP140 GST fusion protein

Research area:

Cell Signaling & Signal Transduction ; Epigenetics & Nuclear Signalling



For Research Use Only
Target Details
Target:

RIP140

Target background:

RIP140 is a ligand-dependent corepressor for most nuclear receptors, and functions through interaction with their AF2 activation domains. Modulates transcriptional activation by steroid receptors such as NR3C1, NR3C2 and ESR1. Also modulates transcriptional repression by nuclear hormone receptors.
Application Details
Application:

ChIP ; ELISA ; IF ; IP ; WB
Handling
Format:

Liquid

Concentration:

1 mg/ml

Storage buffer:

PBS with 0.02% azide

Storage conditions:

-15°C to -25°C

Shipping conditions:

Shipping at 4°C

Mycoplasma free:

Yes
Related Tools
References
•

Foulds et al. 2013. Mol Cell. 51(2):185-99. PMID: 23850489.

•

Proteomic analysis of coregulators bound to ERa on DNA and nucleosomes reveals coregulator dynamics.

•

Poliandri et al. 2011. J Biol Rhythms. 26(3):187-99. PMID: 21628546.

•

Modulation of clock gene expression by the transcriptional coregulator receptor interacting protein 140 (RIP140).

•

Hallberg et al. 2008. Mol Cell Biol. 28(22):6785-95. PMID: 18794372.

•

A Fn interaction between RIP140 and PGC-1alpha regulates the expression of the lipid droplet protein CIDEA.

•

Herzog et al. 2007. Mol Endocrinol. 21(11):2687-97. PMID: 17684114.

•

Kiskinis et al. 2007. EMBO J. 26(23):4831-40. PMID: 17972916.

•

RIP140 directs histone and DNA methylation to silence Ucp1 expression in white adipocytes.

•

The nuclear receptor cofactor, receptor-interacting protein 140, is required for the regulation of hepatic lipid and glucose metabolism by liver X receptor.