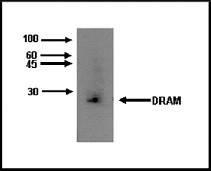 Contributor Information
Name

Ayham Alnabulsi

Institute

Vertebrate Antibodies Limited
Tool Details
Tool name:

Anti-DRAM1 [M3-P4B4]

Clone:

M3-P4B4

Tool type:

Antibodies

Tool sub-type:

Primary antibody

Class:

Monoclonal

Conjugate:

Unconjugated

Reactivity:

Human

Host:

Mouse

Cancer type:

Colorectal

Application:

ELISA ; IHC ; IF ; WB

Strain:

Balb/c

Description:

DRAM1 is significantly upregulated in colorectal cancer and significantly associated with prognosis.

Immunogen:

Peptide Sequence - EKDYVYHVVS (amino acids 192 - 201)

Isotype:

IgG1

Research area:

Apoptosis and Programmed Cell Death ; Cancer ; Cell Cycle ; Cell Signaling & Signal Transduction ; Metabolism

Myeloma used:

P3X63Ag8.653



For Research Use Only
Target Details
Target:

Damage Regulated Autophagy Modulator 1 (DRAM1)

Target background:

DRAM1 is significantly upregulated in colorectal cancer and significantly associated with prognosis.
Application Details
Application:

ELISA ; IHC ; IF ; WB
Handling
Format:

Liquid

Concentration:

0.9-1.1 mg/ml

Storage buffer:

PBS with 0.02% azide

Storage conditions:

-15°C to -25°C

Shipping conditions:

Shipping at 4°C
References
•

Brown et al. 2014. PLoS One. 9(3):e90776. PMID: 24608339.

•

The expression and prognostic significance of retinoic acid metabolising enzymes in colorectal cancer.