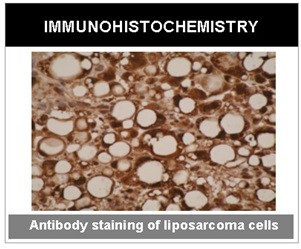 Contributor Information
Name

Ayham Alnabulsi

Institute

Vertebrate Antibodies Limited
Tool Details
Tool name:

Anti-Cytochrome P450 26A1 [F27P6A1]

Clone:

F27P6A1

Tool type:

Antibodies

Tool sub-type:

Primary antibody

Class:

Monoclonal

Conjugate:

Unconjugated

Reactivity:

Human

Host:

Mouse

Molecular weight of the target:

18.4 kDa

Application:

ELISA ; IHC ; WB

Strain:

Balb/c

Description:

Mutations in CYP26A1 are associated with caudal agenesis and spina bifida. CYP26A1 is upregulated in adenomatous polyposis coli mouse adenomas, human FAP adenomas, human sporadic colon carcinomas, and in the intestine of adenomatous polyposis coli (apcmcr) mutant zebrafish embryo.

Immunogen:

Ovalbumin-conjugated synthetic peptide PARFTHFHGE (C-terminal sequence)

Isotype:

IgG2b kappa

Research area:

Cancer ; Cell Signaling & Signal Transduction ; Metabolism

Myeloma used:

P3X63Ag8.653



For Research Use Only
Target Details
Target:

CYP26A1 Cytochrome P450 26A1 (Retinoic acid-metabolizing cytochrome) (P450 retinoicacid-inactivating 1) (P450RAI) (hP450RAI) (Retinoic acid 4-hydroxylase).

Target molecular weight:

18.4 kDa

Target background:

Mutations in CYP26A1 are associated with caudal agenesis and spina bifida. CYP26A1 is upregulated in adenomatous polyposis coli mouse adenomas, human FAP adenomas, human sporadic colon carcinomas, and in the intestine of adenomatous polyposis coli (apcmcr) mutant zebrafish embryo.
Application Details
Application:

ELISA ; IHC ; WB
Handling
Format:

Liquid

Concentration:

1 mg/ml

Storage buffer:

PBS with 0.02% azide

Storage conditions:

-15°C to -25°C

Shipping conditions:

Shipping at 4°C
References
•

Stoney et al. 2015. Brain Struct Funct. :. PMID: 26374207.

•

Expression of the retinoic acid catabolic enzyme CYP26B1 in the human brain to maintain signaling homeostasis.

•

Brown et al. 2014. PLoS One. 9(3):e90776. PMID: 24608339.

•

The expression and prognostic significance of retinoic acid metabolising enzymes in colorectal cancer.

•

Downie et al. 2005. Clin Cancer Res. 11(20):7369-75. PMID: 16243809.

•

Profiling cytochrome P450 expression in ovarian cancer: identification of prognostic markers.

•

Kumarakulasingham et al. 2005. Clin Cancer Res. 11(10):3758-65. PMID: 15897573.

•

Cytochrome p450 profile of colorectal cancer: identification of markers of prognosis.