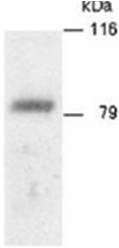 Contributor Information
Name

Carl Blobel

Institute

Hospital for Special Surgery
Tool Details
Tool name:

Anti-ADAM9 [9MO]

Clone:

9MO

Tool type:

Antibodies

Tool sub-type:

Primary antibody

Class:

Polyclonal

Conjugate:

Unconjugated

Reactivity:

Mouse

Host:

Rabbit

Molecular weight of the target:

~84 kDa (mature form), 115 kDa (pro-form)

Application:

WB

Description:

ADAM9 encodes disintegrin and metalloprotease (ADAM) domain 9, which is a member of the ADAM protein family. Members of this family are membrane- anchored proteins structurally related to snake venom disintegrins, and have been implicated in a variety of biologic processes involving cell- cell and cell-matrix interactions, including fertilization, muscle development, and neurogenesis. The member encoded by this gene interacts with SH3 domain-containing proteins, binds mitotic arrest deficient 2 beta protein, and is also involved in TPA-induced ectodomain shedding of membrane-anchored heparin-binding EGF-like growth factor.

Immunogen:

GST-cyto corresponding to the cytoplasmic domain of murine ADAM9

Research area:

Cancer; Cell signaling and signal transduction



For Research Use Only
Target Details
Target:

ADAM9

Target molecular weight:

~84 kDa (mature form), 115 kDa (pro-form)

Target background:

ADAM9 encodes disintegrin and metalloprotease (ADAM) domain 9, which is a member of the ADAM protein family. Members of this family are membrane- anchored proteins structurally related to snake venom disintegrins, and have been implicated in a variety of biologic processes involving cell- cell and cell-matrix interactions, including fertilization, muscle development, and neurogenesis. The member encoded by this gene interacts with SH3 domain-containing proteins, binds mitotic arrest deficient 2 beta protein, and is also involved in TPA-induced ectodomain shedding of membrane-anchored heparin-binding EGF-like growth factor.
Handling
Format:

Liquid

Concentration:

0.9-1.1 mg/ml

Storage buffer:

Whole serum

Storage conditions:

-20°C

Shipping conditions:

Shipping at 4°C
References
•

Guaiquil et al. 2009. Mol Cell Biol. 29(10):2694-703. PMID: 19273593.

•

Peduto et al. 2005. Cancer Res. 65(20):9312-9. PMID: 16230393.

•

Roghani et al. 1999. J Biol Chem. 274(6):3531-40. PMID: 9920899.

•

ADAM9 is involved in pathological retinal neovascularization.

•

Critical function for ADAM9 in mouse prostate cancer.

•

Metalloprotease-disintegrin MDC9: intracellular maturation and catalytic activity.

•

Weskamp et al. 1996. J Cell Biol. 132(4):717-26. PMID: 8647900.

•

MDC9, a widely expressed cellular disintegrin containing cytoplasmic SH3 ligand domains.