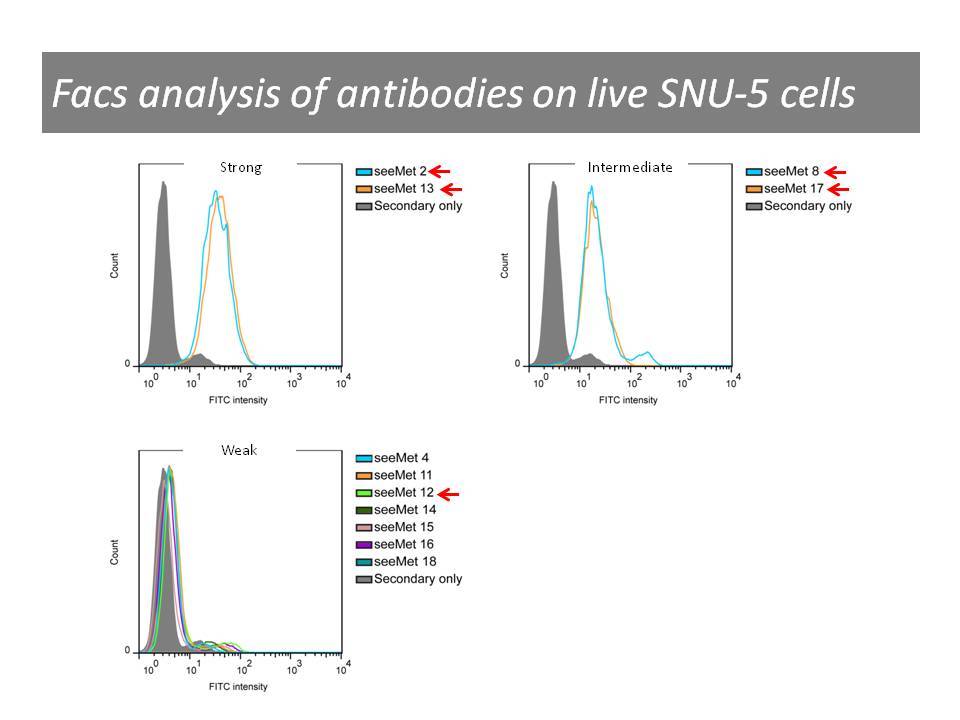 Contributor Information
Name

Julin Wong ; David Lane

Institute

A*STAR Accelerate Technologies Pte Ltd
Tool Details
Tool name:

Anti-c-Met [13]

Clone:

13

Tool type:

Antibodies

Tool sub-type:

Primary antibody

Class:

Monoclonal

Conjugate:

Unconjugated

Reactivity:

Human

Host:

Mouse

Application:

FACS ; IF ; IP ; WB

Description:

c-Met is a tyrosine receptor kinase which is activated by its ligand, the hepatocyte growth factor. Activation of c-Met leads to a wide spectrum of biological activities such as motility, angiogenesis, morphogenesis, cell survival and cell regeneration. c-Met is abnormally activated in many tumour types. Aberrant c-Met activation was found to induce tumour development, tumour cell migration and invasion, and the worst and final step in cancer progression, metastasis.

Immunogen:

Bacterially expressed human c-Met alpha chain

Isotype:

IgG1 kappa

Research area:

Cancer; Cell signaling and signal transduction; Genetics

Myeloma used:

Sp2/0-Ag14



For Research Use Only
Target Details
Target:

c-Met, cMet

Target background:

c-Met is a tyrosine receptor kinase which is activated by its ligand, the hepatocyte growth factor. Activation of c-Met leads to a wide spectrum of biological activities such as motility, angiogenesis, morphogenesis, cell survival and cell regeneration. c-Met is abnormally activated in many tumour types. Aberrant c-Met activation was found to induce tumour development, tumour cell migration and invasion, and the worst and final step in cancer progression, metastasis.
Application Details
Application:

FACS ; IF ; IP ; WB
Handling
Format:

Liquid

Concentration:

1 mg/ml

Storage buffer:

PBS with 0.02% azide

Storage conditions:

-15°C to -25°C

Shipping conditions:

Shipping at 4°C
References
•

Wong et al. 2013. Oncotarget. 4(7):1019-36. PMID: 23859937.

•

Anti-c-Met antibodies recognising a temperature sensitive epitope, inhibit cell growth.