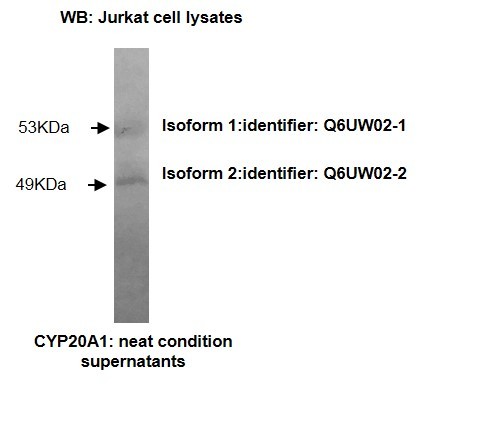 Contributor Information
Name

Ayham Alnabulsi

Institute

Vertebrate Antibodies Limited
Tool Details
Tool name:

Anti-Cytochrome P450 20A1 [Z27-P3H7*E3]

Alternate names:

Cytochrome P45 2A1

Clone:

Z27-P3H7*E3

Tool type:

Antibodies

Tool sub-type:

Primary antibody

Class:

Monoclonal

Conjugate:

Unconjugated

Reactivity:

Human

Host:

Mouse

Molecular weight of the target:

53 kDa (isoform 1), 49 kDa (isoform 2)

Application:

ELISA ; IHC ; WB

Strain:

Balb/c

Description:

Cytochrome P450 20A1 (CYP20A1) encodes a member of the cytochrome P450 superfamily of enzymes that are a group of heme-thiolate monooxygenases. Cytochromes P450 catalyze many reactions involved in drug metabolism and synthesis of cholesterol, steroids and other lipids. CYP20A1 lacks one amino acid of the conserved heme binding site.

Immunogen:

Ovalbumin-conjugated synthetic peptide AWITVSKRY

Isotype:

IgG

Research area:

Cancer ; Cell Signaling & Signal Transduction ; Metabolism

Myeloma used:

P3X63Ag8.653



For Research Use Only
Target Details
Target:

Cytochrome P450, family 20, subfamily A, polypeptide 1 (CYP20A1)

Target molecular weight:

53 kDa (isoform 1), 49 kDa (isoform 2)

Target background:

Cytochrome P450 20A1 (CYP20A1) encodes a member of the cytochrome P450 superfamily of enzymes that are a group of heme-thiolate monooxygenases. Cytochromes P450 catalyze many reactions involved in drug metabolism and synthesis of cholesterol, steroids and other lipids. CYP20A1 lacks one amino acid of the conserved heme binding site.
Application Details
Application:

ELISA ; IHC ; WB
Handling
Format:

Liquid

Concentration:

0.9-1.1 mg/ml

Storage buffer:

PBS with 0.02% azide

Storage conditions:

-15°C to -25°C

Shipping conditions:

Shipping at 4°C
Related Tools