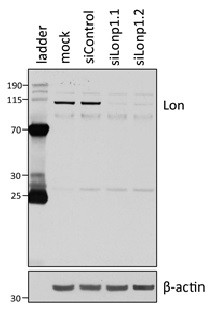 Contributor Information
Name

Helen Turley

Institute

University of Oxford
Tool Details
Tool name:

Anti-LONP1 [LON20/H1]

Alternate names:

hLON, hLON ATP dependent protease, LON, LONP1, lon peptidase 1, mitochondrial, LON protease, Lon protease homolog, Lon protease like protein, Lon protease-like protein

Clone:

LON20/H1

Tool type:

Antibodies

Tool sub-type:

Primary antibody

Class:

Monoclonal

Conjugate:

Unconjugated

Reactivity:

Human

Host:

Mouse

Molecular weight of the target:

106 kDa

Application:

ELISA ; IHC ; WB

Description:

ATP-dependent serine protease that mediates the selective degradation of misfolded, unassembled or oxidatively damaged polypeptides as well as certain short-lived regulatory proteins in the mitochondrial matrix. May also have a chaperone function in the assembly of inner membrane protein complexes. Participates in the regulation of mitochondrial gene expression and in the maintenance of the integrity of the mitochondrial genome. Binds to mitochondrial promoters and RNA in a single-stranded, site-specific, and strand-specific manner.

Immunogen:

KLH-peptide conjugate - N-CEKDDKDAIEEKFRERLKE-C

Isotype:

IgG

Research area:

Cancer; Epigenetics & Nuclear Signalling; Metabolism



For Research Use Only
Target Details
Target:

Human LON protease

Target molecular weight:

106 kDa

Target background:

ATP-dependent serine protease that mediates the selective degradation of misfolded, unassembled or oxidatively damaged polypeptides as well as certain short-lived regulatory proteins in the mitochondrial matrix. May also have a chaperone function in the assembly of inner membrane protein complexes. Participates in the regulation of mitochondrial gene expression and in the maintenance of the integrity of the mitochondrial genome. Binds to mitochondrial promoters and RNA in a single-stranded, site-specific, and strand-specific manner.
Application Details
Application:

ELISA ; IHC ; WB
Handling
Format:

Liquid

Concentration:

1 mg/ml

Storage buffer:

PBS with 0.02% azide

Storage conditions:

-15°C to -25°C

Shipping conditions:

Shipping at 4°C
References
•

Cameron Edward Snell PhD thesis, (2013). Mitochondrial modulators of hypoxia-related pathways in tumours. DPhil. University of Oxford.

•

Snell et al., 2016. Targeting the mitochondrial Lon protease reduces aerobic glycolysis and HIF-1a stabilisation in tumour cells. Submitted for publication.