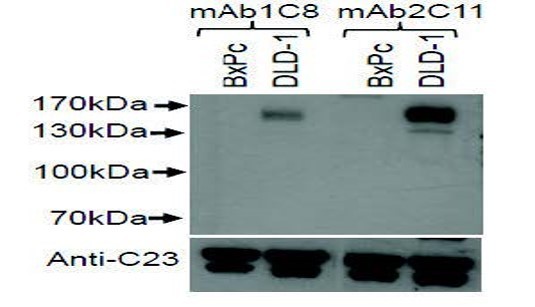 Contributor Information
Institute

A*STAR Accelerate Technologies Pte Ltd
Tool Details
Tool name:

Anti-C-kit (CD117) [2C11]

Alternate names:

C Kit antibody, c-Kit antibody, CD117 antibody

Clone:

2C11

Tool type:

Antibodies

Tool sub-type:

Primary antibody

Class:

Monoclonal

Conjugate:

Unconjugated

Reactivity:

Human

Host:

Mouse

Application:

FACS ; WB

Strain:

Balb/c

Description:

C-kit, also known as CD117, is expressed on the surface of hematopoietic stem cells. C-kit is a receptor tyrosine kinase that is overexpressed in > 70% of gastrointestinal stromal tumors (GISTs).

Immunogen:

GST-fusion protein containing 315-519 residues of human c-kit. c-kit. This region is in the extracellular domain of c-kit.

Isotype:

IgG1

Research area:

Cancer ; Immunology

Myeloma used:

Sp2/0-Ag14



For Research Use Only
Target Details
Target:

C-kit

Target background:

C-kit, also known as CD117, is expressed on the surface of hematopoietic stem cells. C-kit is a receptor tyrosine kinase that is overexpressed in > 70% of gastrointestinal stromal tumors (GISTs).
Handling
Format:

Liquid

Concentration:

0.9-1.1 mg/ml

Storage buffer:

PBS with 0.02% azide

Storage conditions:

-15°C to -25°C

Shipping conditions:

Shipping at 4°C
Related Tools
References
•

Bellone et al. 2001. Cancer Res. 61(5):2200-6. PMID: 11280787.

•

Aberrant activation of c-kit protects colon carcinoma cells against apoptosis and enhances their invasive potential.