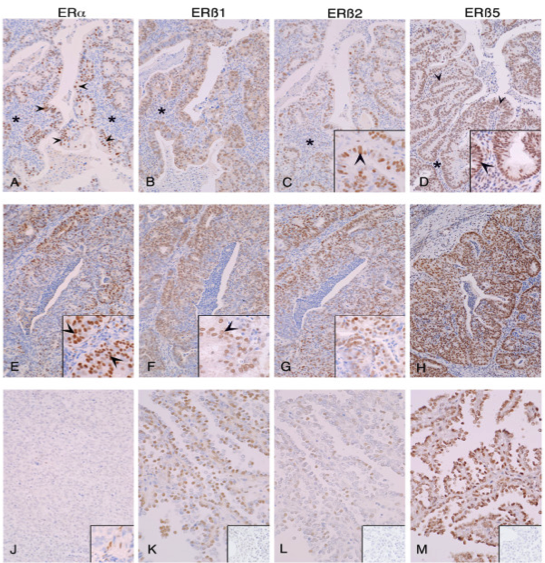 Tool Details
Tool name:

Anti-Estrogen Receptor ?1 [PPG5/10]

Alternate names:

Estrogen receptor beta, ER-beta, Nuclear receptor subfamily 3 group A member 2

Clone:

PPG5/10

Tool type:

Antibodies

Tool sub-type:

Primary antibody

Class:

Monoclonal

Conjugate:

Unconjugated

Reactivity:

Human ; Pig ; Primate ; Rat ; Sheep ; Rhesus macaque ; Cynomolgus monkey ; Turtle ; Goose

Host:

Mouse

Cancer type:

Ovarian; Breast; Broadly Applicable

Molecular weight of the target:

59 kDa

Application:

IHC ; IF ; WB

Immunogen:

Synthetic peptide CEDSKSKEGSQNPQSQ derived from the C terminus of human ER?1

Research area:

Cancer ; Immunology ; Neurobiology



For Research Use Only
Target Details
Target:

Estrogen Receptor ?1

Target molecular weight:

59 kDa

Target background:

Estrogen receptors are commonly over-expressed in cancers. Clone PPG5/10 recognizes Estrogen Receptor Beta (ER?) 1 and is useful in determining the expression of ER?1 in cancer cells, mainly via immunohistochemistry.
Application Details
Application:

IHC ; IF ; WB
Handling
Format:

Liquid

Shipping conditions:

Shipping at 4°C
References
•

Zannoni et al. 2016. Histopathology. 68(4):541-8. PMID: 26132417.

•

Sexual dimorphism in medulloblastoma features.

•

Gender effect in experimental models of human medulloblastoma: does the estrogen receptor ? signaling play a role?

•

Ciucci et al. 2014. PLoS One. 9(7):e101623. PMID: 25000562.

•

Asgari et al. 2011. Diagn Pathol. 6:61. PMID: 21733187.

•

Estrogen receptor beta expression in prostate adenocarcinoma.

•

Collins et al. 2009. BMC Cancer. 9:330. PMID: 19758455.

•

Expression of oestrogen receptors, ERalpha, ERbeta, and ERbeta variants, in endometrial cancers and evidence that prostaglandin F may play a role in regulating expression of ERalpha.

•

Schiessl et al. 2005. J Histochem Cytochem. 53(12):1441-9. PMID: 15983116.

•

Wong et al. 2005. J Pathol. 207(1):53-60. PMID: 15954165.

•

ERbeta isoform expression in colorectal carcinoma: an in vivo and in vitro study of clinicopathological and molecular correlates.

•

Expression of endothelial NO synthase, inducible NO synthase, and estrogen receptors alpha and beta in placental tissue of normal, preeclamptic, and intrauterine growth-restricted pregnancies.

•

Sierens et al. 2004. J Mol Endocrinol. 32(3):703-18. PMID: 15171710.

•

Cloning of oestrogen receptor beta from Old and New World primates: identification of splice variants and Fn analysis.

•

Torlakovic et al. 2002. Hum Pathol. 33(6):646-51. PMID: 12152165.

•

Prostate carcinoma expression of estrogen receptor-beta as detected by PPG5/10 antibody has positive association with primary Gleason grade and Gleason score.