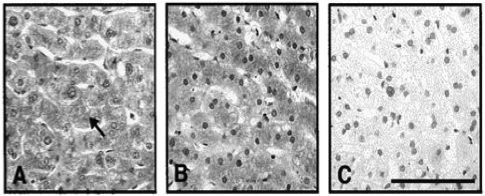 Tool Details
Tool name:

Anti-Activin C [BetaC1]

Alternate names:

Activin beta-C chain, Inhibin beta C chain

Clone:

BetaC1

Tool type:

Antibodies

Tool sub-type:

Primary antibody

Class:

Monoclonal

Conjugate:

Unconjugated

Reactivity:

Human

Host:

Mouse

Application:

IHC ; WB

Immunogen:

Synthetic peptide sequence VPTARRPLSLLYYDRDSNIKVTDIPMVVEAC which recognizes amino acids 82-113 of human Activin ? -C subunit

Research area:

Cancer ; Immunology



For Research Use Only
Target Details
Target:

Activin C

Target background:

Activin is part of the TGF-beta superfamily, known to regulate growth and differentiation of cells. The ?-C subunit of Activin is expressed in a range of tissues having growth promoting and inhibitory properties. ?-C Clone 1 recognizes the ?-C subunit of Activin and is a useful stain to detect expression of the protein in hepatocyte cells.
Handling
Format:

Liquid

Shipping conditions:

Shipping at 4°C
References
•

Gold et al. 2005. J Mol Endocrinol. 34(2):505-15. PMID: 15821113.

•

betaA- and betaC-activin, follistatin, activin receptor mRNA and betaC-activin peptide expression during rat liver regeneration.

•

Mellor et al. 2003. Endocrinology. 144(10):4410-9. PMID: 12960042.

•

Activin betaC-subunit heterodimers provide a new mechanism of regulating activin levels in the prostate.

•

Mellor et al. 2000. J Clin Endocrinol Metab. 85(12):4851-8. PMID: 11134153.

•

Localization of activin beta(A)-, beta(B)-, and beta(C)-subunits in humanprostate and evidence for formation of new activin heterodimers of beta(C)-subunit.