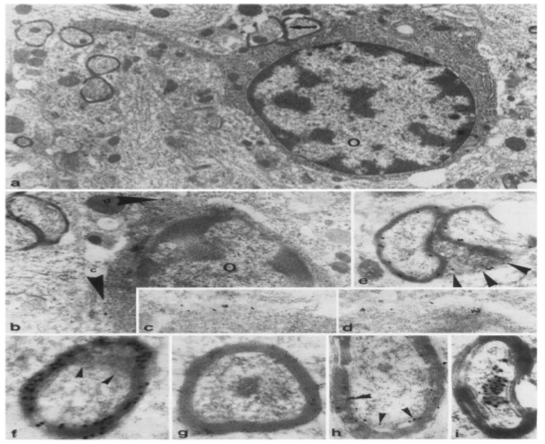 Tool Details
Tool name:

Anti-Myelin Basic Protein (region 129-138) [MBP1]

Alternate names:

Myelin basic protein, MBP, 2 kDa microtubule-stabilizing protein, Myelin A1 protein

Clone:

MBP1

Tool type:

Antibodies

Tool sub-type:

Primary Antibody

Class:

Monoclonal

Purpose:

Marker

Conjugate:

Unconjugated

Reactivity:

Human ; Rat

Host:

Mouse

Cancer type:

Brain

Molecular weight of the target:

13-21 kDa

Application:

ELISA ; IHC ; WB

Immunogen:

Reacts with MBP from human, bovine and rat, recognizing epitope 129-138

Research area:

Cell Type or Organelle Marker ; Immunology ; Neurobiology



For Research Use Only
Target Details
Target:

Myelin Basic Protein (region 129-138)

Target molecular weight:

13-21 kDa

Target background:

Myelin Basic Protein (MBP) is involved in the process of myelination of nerves. MBP Clone 1 recognizes an epitope in the 129-138 region of MBP, useful in clinical diagnosis to detect MBP levels.
Application Details
Application:

ELISA ; IHC ; WB
Handling
Format:

Liquid

Shipping conditions:

Shipping at 4°C
References
•

Marignier et al. 2010. Brain. 133(9):2578-91. PMID: 20688809.

•

Oligodendrocytes are damaged by neuromyelitis optica immunoglobulin G via astrocyte injury.

•

Jatana et al. 2006. Pediatr Res. 59(5):684-9. PMID: 16627882.

•

Combination of systemic hypothermia and N-acetylcysteine attenuates hypoxic-ischemic brain injury in neonatal rats.

•

Chujor et al. 1991. Int J Lepr Other Mycobact Dis. 59(4):590-7. PMID: 1724981.

•

Serum antibodies against peripheral nervous system antigens in leprosy.

•

Brunner et al. 1989. J Neurochem. 52(1):296-304. PMID: 2462020.

•

Differential ultrastructural localization of myelin basic protein, myelin/oligodendroglial glycoprotein, and 2',3'-cyclic nucleotide 3'-phosphodiesterase in the CNS of adult rats.

•

Groome et al. 1986. J Neuroimmunol. 12(4):253-64. PMID: 2428830.

•

Region-specific immunoassays for human myelin basic protein.

•

Groome et al. 1985. Neurochem Int. 7(2):309-17. PMID: 20492929.

•

Preparation and properties of monoclonal antibodies to myelin basic protein and its peptides.