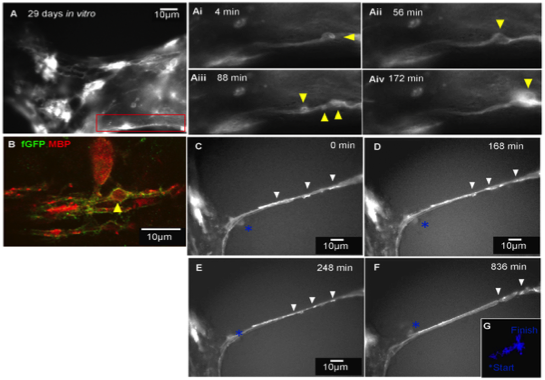 Tool Details
Tool name:

Anti-Myelin Basic Protein [MBP40]

Alternate names:

Myelin basic protein, MBP, 2 kDa microtubule-stabilizing protein, Myelin A1 protein

Clone:

MBP40

Tool type:

Antibodies

Tool sub-type:

Primary Antibody

Class:

Monoclonal

Purpose:

Marker

Conjugate:

Unconjugated

Reactivity:

Chicken ; Human ; Guinea Pig ; Pig ; Rat ; Rabbit ; Sheep ; Mammals

Host:

Rat

Cancer type:

Brain

Molecular weight of the target:

13-21 kDa

Application:

ELISA

Immunogen:

Epitope unknown

Research area:

Cell Type or Organelle Marker ; Immunology ; Neurobiology ; Stem Cell Biology



For Research Use Only
Target Details
Target:

Myelin Basic Protein

Target molecular weight:

13-21 kDa

Target background:

Monoclonal antibody used to detect MBP levels and myelination. Background and Research Application Myelin Basic Protein (MBP) is involved in the process of myelination of nerves, oligodendrocytes and Schwann cells in the nervous system. MBP maintains the correct structure of myelin, interacting with the lipids in the myelin membrane. MBP clone 40 is used in clinical diagnostics to detect MBP levels or myelination in human MBP. MBP 40 is used in a two-site ELISA with clone MBP 12. Both are used interchangeably as capture and detection antibody.
Handling
Format:

Liquid

Concentration:

1 mg/ml

Storage conditions:

Store at -20°C frozen. Avoid repeated freeze / thaw cycles

Shipping conditions:

Shipping at 4°C
References
•

Grigoletto et al. 2017. Acta Neuropathol Commun. 5(1):37. PMID: 28482862.

•

Higher levels of myelin phospholipids in brains of neuronal a-Synuclein transgenic mice precede myelin loss.

•

Friess et al. 2016. Cell Calcium. 60(5):322-330. PMID: 27417499.

•

Friess et al. 2016. Cell Calcium. 60(5):322-330. PMID: 27417499.

•

Fernandes et al. 2016. J Control Release. 238:300-310. PMID: 27369863.

•

Isoda et al. 2016. Neurosci Res. 110:18-28. PMID: 27083781.

•

Lim et al. 2016. Antioxidants (Basel). 5(3):. PMID: 27618111.

•

Protandim Protects Oligodendrocytes against an Oxidative Insult.

•

Intracellular ion signaling influences myelin basic protein synthesis in oligodendrocyte precursor cells.

•

Part II: Fn delivery of a neurotherapeutic gene to neural stem cells using minicircle DNA and nanoparticles: Translational advantages for regenerative neurology.

•

Robust production of human neural cells by establishing neuroepithelial-like stem cells from peripheral blood mononuclear cell-derived feeder-free iPSCs under xeno-free conditions.

•

Crawford et al. 2016. Am J Pathol. 186(3):511-6. PMID: 26773350.

•

Pre-Existing Mature Oligodendrocytes Do Not Contribute to Remyelination following Toxin-Induced Spinal Cord Demyelination.

•

Natrajan et al. 2015. Brain. 138(Pt 12):3581-97. PMID: 26463675.

•

Retinoid X receptor activation reverses age-related deficiencies in myelin debris phagocytosis and remyelination.

•

HDAC1/2-Dependent P0 Expression Maintains Paranodal and Nodal Integrity Independently of Myelin Stability through Interactions with Neurofascins.

•

SncRNA715 Inhibits Schwann Cell Myelin Basic Protein Synthesis.

•

Meade et al. 2015. Brain Res. 1611:101-13. PMID: 25842371.

•

Quantitative proteomic analysis of the brainstem following lethal sarin exposure.

•

Brgger et al. 2015. PLoS Biol. 13(9):e1002258. PMID: 26406915.

•

Mller et al. 2015. PLoS One. 10(8):e0136900. PMID: 26317513.

•

Pusic et al. 2014. J Neuroimmunol. 266(1-2):12-23. PMID: 24275061.

•

IFN?-stimulated dendritic cell exosomes as a potential therapeutic for remyelination.

•

Horiuchi et al. 2012. Neurobiol Aging. 33(3):499-509. PMID: 20594620.

•

Time-lapse imaging of the dynamics of CNS glial-axonal interactions in vitro and ex vivo.

•

Ioannidou et al. 2012. PLoS One. 7(1):e30775. PMID: 22303455.

•

Monk et al. 2011. Development. 138(13):2673-80. PMID: 21613327.

•

Gpr126 is essential for peripheral nerve development and myelination in mammals.

•

Pohl et al. 2011. J Neurosci. 31(3):1069-80. PMID: 21248132.

•

Genetically induced adult oligodendrocyte cell death is associated with poor myelin clearance, reduced remyelination, and axonal damage.

•

Savvaki et al. 2010. J Neurosci. 30(42):13943-54. PMID: 20962216.

•

The expression of TAG-1 in glial cells is sufficient for the formation of the juxtaparanodal complex and the phenotypic rescue of tag-1 homozygous mutants in the CNS.

•

Amyloid ?1-42 oligomer inhibits myelin sheet formation in vitro.

•

Kawai et al. 2009. Eur J Neurosci. 30(11):2030-41. PMID: 20128842.

•

Maintenance of the relative proportion of oligodendrocytes to axons even in the absence of BAX and BAK.

•

Relucio et al. 2009. J Neurosci. 29(38):11794-806. PMID: 19776266.

•

Laminin alters fyn regulatory mechanisms and promotes oligodendrocyte development.

•

Homchaudhuri et al. 2009. Biochemistry. 48(11):2385-93. PMID: 19178193.

•

Influence of membrane surface charge and post-translational modifications to myelin basic protein on its ability to tether the Fyn-SH3 domain to a membrane in vitro.

•

Matsuo et al. 1997. Am J Pathol. 150(4):1253-66. PMID: 9094982.

•

Unmasking of an unusual myelin basic protein epitope during the process of myelin degeneration in humans: a potential mechanism for the generation of autoantigens.

•

Groome et al. 1988. J Neuroimmunol. 19(4):305-15. PMID: 2459156.

•

New monoclonal antibodies reactive with defined sequential epitopes in human myelin basic protein.

•

Hruby et al. 1987. Mol Immunol. 24(12):1359-64. PMID: 2448611.

•

Monoclonal antibodies reactive with myelin basic protein.

•

Groome et al. 1986. J Neuroimmunol. 12(4):253-64. PMID: 2428830.

•

Region-specific immunoassays for human myelin basic protein.

•

Elfman et al. 1986. J Neurochem. 46(2):509-15. PMID: 2416877.

•

Rat and mouse monoclonal antibodies to human myelin basic protein.