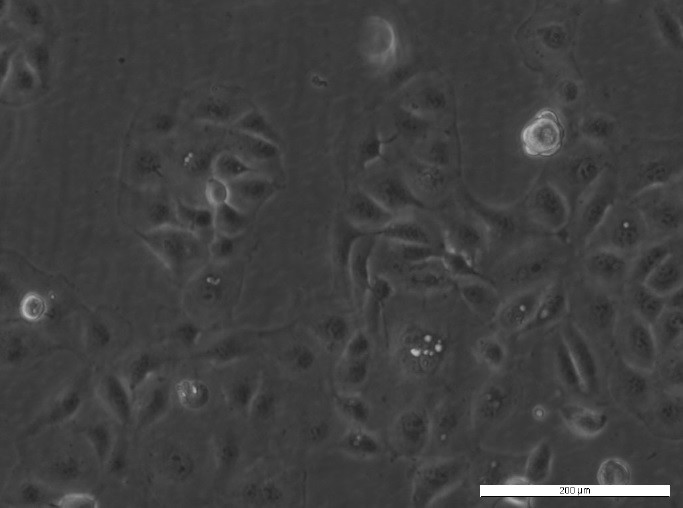 Contributor Information
Name

Joyce Taylor-Papadimitriou ; Joy Burchell

Institute

Cancer Research UK, London Research Institute: Lincoln's Inn Fields
Tool Details
Tool name:

1-7 CE1 Cell Line

Tool type:

Cell Lines

Tool sub-type:

Continuous

Parental cell line:

MSTV1-7 HER2

Organism:

Human

Tissue:

Breast

Cancer type:

Breast cancer

Disease:

Cancer

Model:

Transgenic

Description:

The human mammary luminal epithelial cell line MTSV1-7 was transfected with an ERBB2 expression vector, enabling over-expression of the ERBB2 proto-oncogene. It allows in vitro study of ERBB2 proto-oncogene over-expression in human mammary epithelia adn of the effects of ERBB2 over-expression on epithelial morphology & adhesion. The over-expression of the ERBB2 receptor inhibits morphogenesis in vitro, and induces reduced expression of surface adhesion molecules as E-Cadherin and a2 integrin, suggesting a role for ERBB2 over-expression in tumour progression and metastasis.

Research area:

Cell biology; Cancer; Cell signaling and signal transduction; Drug development

Production details:

MTSV1-7 transfected with SV40 plasmid DNA; MTSV1-7 ce1 line transfected with plasmid constructs for pSV2-erbB2 and pSV2neo.

Cellosaurus ID:

CVCL_3033



For Research Use Only
Handling
Format:

Frozen

Growth medium:

DMEM + 2mM Glutamine + 10% Foetal Bovine Serum (FBS) + Insulin (bovine) at 10ug/ml +Hycrocortisone at 5ug/ml.

Shipping conditions:

Dry ice
References
•

D'souza et al. 1994. Proc Natl Acad Sci U S A. 91(15):7202-6. PMID: 7913748.

•

Overexpression of ERBB2 in human mammary epithelial cells signals inhibition of transcription of the E-cadherin gene.

•

D'Souza et al. 1993. Oncogene. 8(7):1797-806. PMID: 8099725.

•

Collagen-induced morphogenesis and expression of the alpha 2-integrin subunit is inhibited in c-erbB2-transfected human mammary epithelial cells.

•

Bartek et al. 1991. Proc Natl Acad Sci U S A. 88(9):3520-4. PMID: 1708884.

•

Efficient immortalization of luminal epithelial cells from human mammary gland by introduction of simian virus 40 large tumor antigen with a recombinant retrovirus.