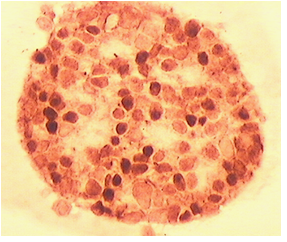 Contributor Information
Name

Anne Lykkesfeldt

Institute

Danish Cancer Society
Tool Details
Tool name:

MCF7/S0.5 Cell Line

Tool type:

Cell Lines

Tool sub-type:

Continuous

Parental cell line:

MCF7

Organism:

Human

Tissue:

Breast

Cancer type:

Breast cancer

Disease:

Cancer

Growth properties:

Adapted to growth in low serum concentrations

Model:

Tumour line

Conditional:

Yes

Description:

The MCF7/S0.5 cell line has been established to grow at low serum. The presence of hormones in the serum required in tissue culture media complicates the demonstration of specific hormone and antihormone effects. Methods to overcome this have included charcoal-treated serum and serum-free medium. However, both methods have serious drawbacks. Therefore, the MCF-7/S0.5 cell line has been adapted to long-term growth at 0.5 % fetal bovine serum in order to reduce the oestrogen supply via serum and to enable oestrogen receptor-mediated growth inhibition with the antiestrogen tamoxifen. The MCF7/S0.5 cells are also useful for studies of effect of oestrogens, if they, instead of 1 % fetal calf serum, are cultivated with 10% newborn calf serum which contains very low oestrogenic activity.

Research area:

Cancer; Drug development

Production details:

This MCF7 subline was established buy stepwise reduction in the serum concentration from 5% fetal calf serum to 0.5 % in growth medium consisting of DMEM: Ham's F-12 medium (1:1) supplemented with 2mM glutamine and insulin (6ng/ml). MCF7/S0.5 express both oestrogen receptor and progesterone receptor. Passage 408 (AL2542, AL2543) Grows in low serum

Cellosaurus ID:

CVCL_1D47



For Research Use Only
Target Details
Target:

Oestrogen receptor
Handling
Format:

Frozen

Passage number:

Passage 408 (AL2542, AL2543)

Growth medium:

Phenol-red-free DMEM/F12 medium supplemented with 1% fetal calf serum 2.5 mM Glutamax and 6 ng/ ml insulin, Grows in low serum

Storage conditions:

Liquid Nitrogen

Shipping conditions:

Dry ice

Mycoplasma free:

Yes

Biosafety level:

1
References
•

Joshi et al. 2016. Oncotarget. :. PMID: 27528030.

•

Integrative analysis of miRNA and gene expression reveals regulatory networks in tamoxifen-resistant breast cancer.

•

High CDK6 Protects Cells from Fulvestrant-Mediated Apoptosis and is a Predictor of Resistance to Fulvestrant in Estrogen Receptor-Positive Metastatic Breast Cancer.

•

Alves et al. 2016. Clin Cancer Res. :. PMID: 27252418.

•

Gene expression alterations associated with outcome in aromatase inhibitor-treated ER+ early-stage breast cancer patients.

•

Thomsen et al. 2015. Breast Cancer Res Treat. :. PMID: 26585578.

•

Hole et al. 2015. Int J Oncol. 46(4):1481-90. PMID: 25625755.

•

New cell culture model for aromatase inhibitor-resistant breast cancer shows sensitivity to fulvestrant treatment and cross-resistance between letrozole and exemestane.

•

Endogenous aromatization of testosterone results in growth stimulation of the human MCF-7 breast cancer cell line.

•

Sonne-Hansen et al. 2005. J Steroid Biochem Mol Biol. 93(1):25-34. PMID: 15748829.

•

Lykkesfeldt et al. 1995. Int J Cancer. 61(4):529-34. PMID: 7759159.

•

Human breast cancer cell lines resistant to pure anti-estrogens are sensitive to tamoxifen treatment.

•

Lykkesfeldt et al. 1994. Cancer Res. 54(6):1587-95. PMID: 8137264.

•

Altered expression of estrogen-regulated genes in a tamoxifen-resistant and ICI 164,384 and ICI 182,780 sensitive human breast cancer cell line, MCF-7/TAMR-1.

•

Lykkesfeldt et al. 1989. Mol Cell Endocrinol. 62(2):287-96. PMID: 2744230.

•

Regulation of the secretion of proteins synthesized by the human breast cancer cell line, MCF-7.

•

Indirect mechanism of oestradiol stimulation of cell proliferation of human breast cancer cell lines.

•

Lykkesfeldt et al. 1986. Br J Cancer. 53(1):29-35. PMID: 3947513.

•

Briand et al. 1984. Cancer Res. 44(3):1114-9. PMID: 6362856.

•

Effect of estrogen and antiestrogen on the human breast cancer cell line MCF-7 adapted to growth at low serum concentration.