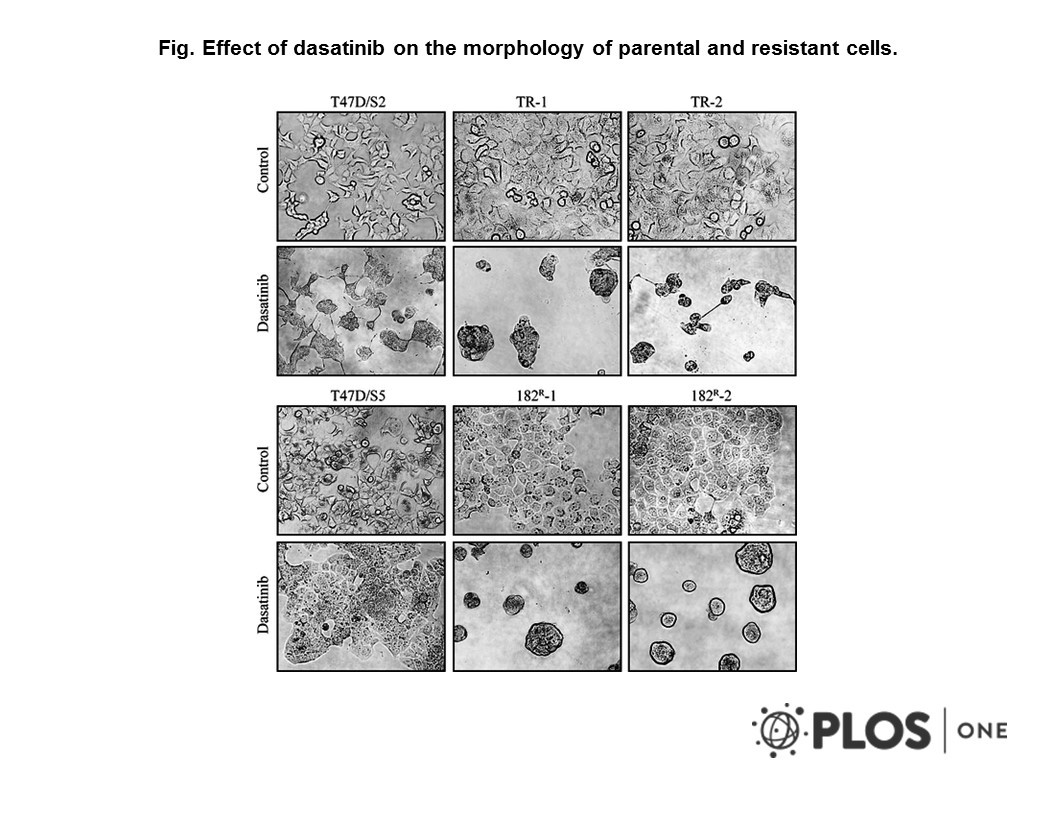 Contributor Information
Name

Anne Lykkesfeldt

Institute

Danish Cancer Society
Tool Details
Tool name:

T47D/S2 Cell Line

Tool type:

Cell Lines

Tool sub-type:

Continuous

Parental cell line:

T47D

Organism:

Human

Tissue:

Breast

Cancer type:

Breast cancer

Disease:

Cancer

Model:

Tumour line

Conditional:

Yes

Description:

The T47D/S2 Cell line is the control cell line for the tamoxifen resistant T47D/TR-1 and T47D/TR-2 lines. Antiestrogen resistance is a major problem in breast cancer treatment. Therefore, the search for new therapeutic targets and biomarkers for antiestrogen resistance is crucial. This cell line allows the study of the mechanisms involved in tamoxifen resistant breast cancer cell growth. This is the control cell line for the tamoxifen resistant T47D/TR-1 and T47D/TR-2. T47DS2 cells express ER alpha and progesterone receptor. Passage 151 (AL3707, AL3708)

Research area:

Cancer; Drug development

Production details:

T47D/S2 cells have been established by reduction of the serum concentration to 2% fetal calf serum, in order to enable growth inhibition with tamoxifen.

Cellosaurus ID:

CVCL_1D45



For Research Use Only
Target Details
Target:

Oestrogen receptor
Application Details
Application notes:

T47DS2 cells express ER alpha and progesterone receptor.
Handling
Format:

Frozen

Passage number:

Passage 151 (AL3707, AL3708)

Growth medium:

Phenol red free RPMI 1640 + 2% FCS + glutamax + 8?"?žg Insulin/ml

Storage conditions:

Liquid Nitrogen

Shipping conditions:

Dry ice

Mycoplasma free:

Yes

Biosafety level:

1
References
•

Larsen et al. 2015. PLoS One. 10(2):e0118346. PMID: 25706943.

•

Larsen et al. 2015. BMC Cancer. 15:239. PMID: 25885472.

•

Aurora kinase B is important for antiestrogen resistant cell growth and a potential biomarker for tamoxifen resistant breast cancer.

•

SRC drives growth of antiestrogen resistant breast cancer cell lines and is a marker for reduced benefit of tamoxifen treatment.

•

Thrane et al. 2014. Oncogene. :. PMID: 25362855.

•

A kinase inhibitor screen identifies Mcl-1 and Aurora kinase A as novel treatment targets in antiestrogen-resistant breast cancer cells.