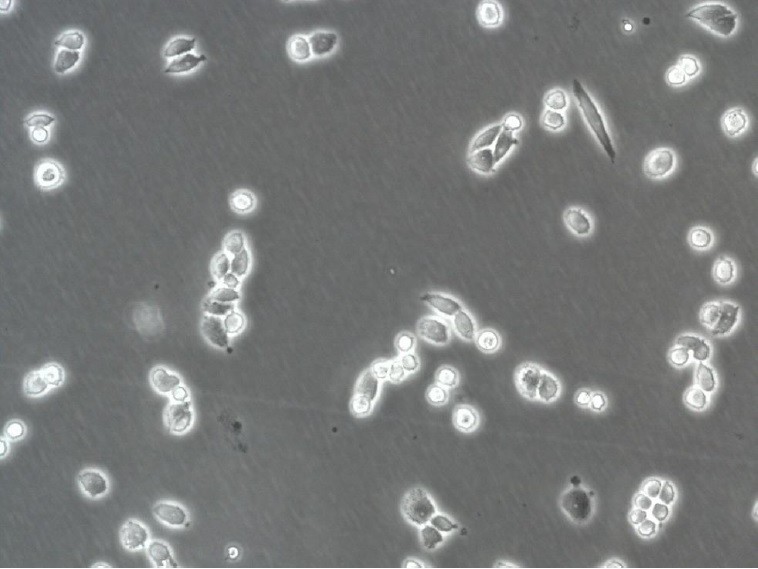 Contributor Information
Name

Timothy Ward

Institute

National Institutes of Health
Tool Details
Tool name:

A2780ADR Cell Line

Tool type:

Cell Lines

Tool sub-type:

Continuous

Parental cell line:

A2780

Organism:

Human

Tissue:

Ovary

Cancer type:

Carcinoma

Disease:

Cancer

Growth properties:

Adherent

Model:

Tumour line

Conditional:

Yes

Description:

The adriamycin-resistant cell line A2780ADR has been developed by exposure of the parent A2780 cell line (catalogue no. 152706) to adriamycin. A2780ADR is cross-resistant to melphalan and vinblastine. To retain resistance adriamycin has to be added to the media. The cells grow as a monolayer and in suspension in spinner cultures and are tumourigenic in immune deficient mice. Together with the cisplatin-resistant variant A2780cis (catalogue no. 152708_ these lines only differ in their exposure to a single drug and should facilitate the search for molecular changes responsible for the expression of pleiotropic drug resistance in human ovarian cancer.

Research area:

Cancer; Drug development

Production details:

Split sub-confluent cultures (70-80%) 1:5 to 1:10 i.e. seeding at 5x1,000 to 2x10,000 cells/cmÂ?‹Â› using 0.25% trypsin or trypsin/EDTA; 5% CO2; 37Â?'°C. Recommendation: culture cells without drug after resuscitation until growth has been fully established.

Cellosaurus ID:

CVCL_1941

Additional notes:

STR-PCR Data: Amelogenin: X CSF1PO: 10,11 D13S317: 13 D16S539: 11,14 D5S818: 11,12 D7S820: 10 THO1: 6 TPOX: 8,9 vWA: 15,16



For Research Use Only
Target Details
Target:

Adriamycin resistance
Application Details
Application notes:

STR-PCR Data: Amelogenin: X CSF1PO: 10,11 D13S317: 13 D16S539: 11,14 D5S818: 11,12 D7S820: 10 THO1: 6 TPOX: 8,9 vWA: 15,16
Handling
Format:

Frozen

Growth medium:

RPMI 1640 + 2mM Glutamine + 10% Foetal Bovine Serum (FBS); treatment with 10E-7 M adriamycin at least once a week.

Shipping conditions:

Dry ice
References
•

Beaufort et al. 2014. PLoS One. 9(9):e103988. PMID: 25230021.

•

Ovarian cancer cell line panel (OCCP): clinical importance of in vitro morphological subtypes.

•

Hamilton et al. 1984. Semin Oncol. 11(3):285-98. PMID: 6385258.

•

Experimental model systems of ovarian cancer: applications to the design and evaluation of new treatment approaches.