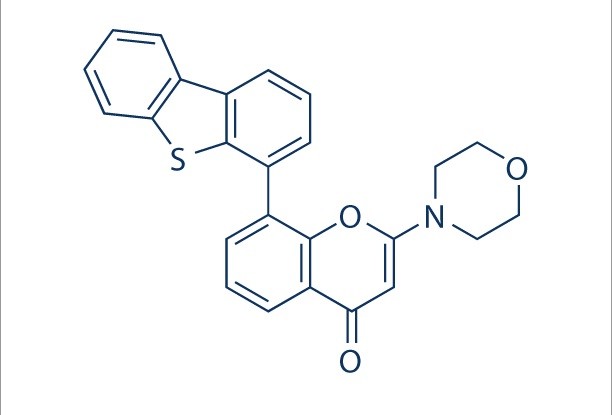 Contributor Information
Name

Bernard Golding ; Laurent Rigoreau

Institute

Newcastle University
Tool Details
Tool name:

DNA-PK inhibitor NU7441 Small Molecule (Tool Compound)

Alternate names:

DNA-dependent protein kinase (DNA-PK) inhibitor NU7441

Molecular formula:

C25H19NO3S

Tool type:

Small molecules

Tool sub-type:

Inhibitor

Purpose:

Inhibitor

Molecular weight of the target:

413.49 g/mol

Application:

NU7441 intraperitoneally administrated at dose of 10 mg/kg maintains for at least 4 hours shows nontoxic and increases etoposide-induced tumor growth delay 2-fold in mice bearing SW620 xenografts. NU7441 increases the persistence of γH2AX foci after ionizing radiation–induced or etoposide-induced DNA damage. NU7441 (0.5 μM or 1 μM) appreciably increases G2-M accumulation induced by ionizing radiation, etoposide, and doxorubicin in both SW620 and LoVo cells. NU7441 causes persistence of doxorubicin- and ionising radiation-induced DNA double-strand break and also slightly decreases homologous recombination activity DNA-PK-proficient M059-Fus-1 and DNA-PK-deficient M059 J human tumour cells. NU7441 inhibits UV-induced RPA p34 hyperphosphorylation in a dose-dependent manner both in cells lacking and cells expressing polymerase η. NU7441 increases levels of fludarabine-induced γH2AX foci and correspondingly decreased fludarabine-induced cell death in chronic lymphocytic leukemia cells. NU7441 also inhibits mitoxantrone-induced DNA-PKcs autophosphorylation and repair in chronic lymphocytic leukemia cells.

Description:

NU7441 is a highly potent and selective DNA-PK inhibitor.

Research area:

Cell Signaling & Signal Transduction; DNA Damage and Repair; Epigenetics & Nuclear Signalling

Selectivity:

Also inhibits PI3K with IC50 of 5 ÎźM in cell-free assays.

IC50:

14 nM



For Research Use Only
Target Details
Target molecular weight:

413.49 g/mol

Primary target:

DNA-dependent protein kinase (DNA-PK)
Application Details
Application:

NU7441 intraperitoneally administrated at dose of 10 mg/kg maintains for at least 4 hours shows nontoxic and increases etoposide-induced tumor growth delay 2-fold in mice bearing SW620 xenografts. NU7441 increases the persistence of γH2AX foci after ionizing radiation–induced or etoposide-induced DNA damage. NU7441 (0.5 μM or 1 μM) appreciably increases G2-M accumulation induced by ionizing radiation, etoposide, and doxorubicin in both SW620 and LoVo cells. NU7441 causes persistence of doxorubicin- and ionising radiation-induced DNA double-strand break and also slightly decreases homologous recombination activity DNA-PK-proficient M059-Fus-1 and DNA-PK-deficient M059 J human tumour cells. NU7441 inhibits UV-induced RPA p34 hyperphosphorylation in a dose-dependent manner both in cells lacking and cells expressing polymerase η. NU7441 increases levels of fludarabine-induced γH2AX foci and correspondingly decreased fludarabine-induced cell death in chronic lymphocytic leukemia cells. NU7441 also inhibits mitoxantrone-induced DNA-PKcs autophosphorylation and repair in chronic lymphocytic leukemia cells.
Handling
Purity:

413.49 g/mol

Shipping conditions:

Dry Ice
References
•

Zhao et al. 2006. Cancer Res. 66(10):5354-62. PMID: 16707462.

•

Preclinical evaluation of a potent novel DNA-dependent protein kinase inhibitor NU7441.

•

Leahy et al. 2004. Bioorg Med Chem Lett. 14(24):6083-7. PMID: 15546735.

•

Identification of a highly potent and selective DNA-dependent protein kinase (DNA-PK) inhibitor (NU7441) by screening of chromenone libraries.