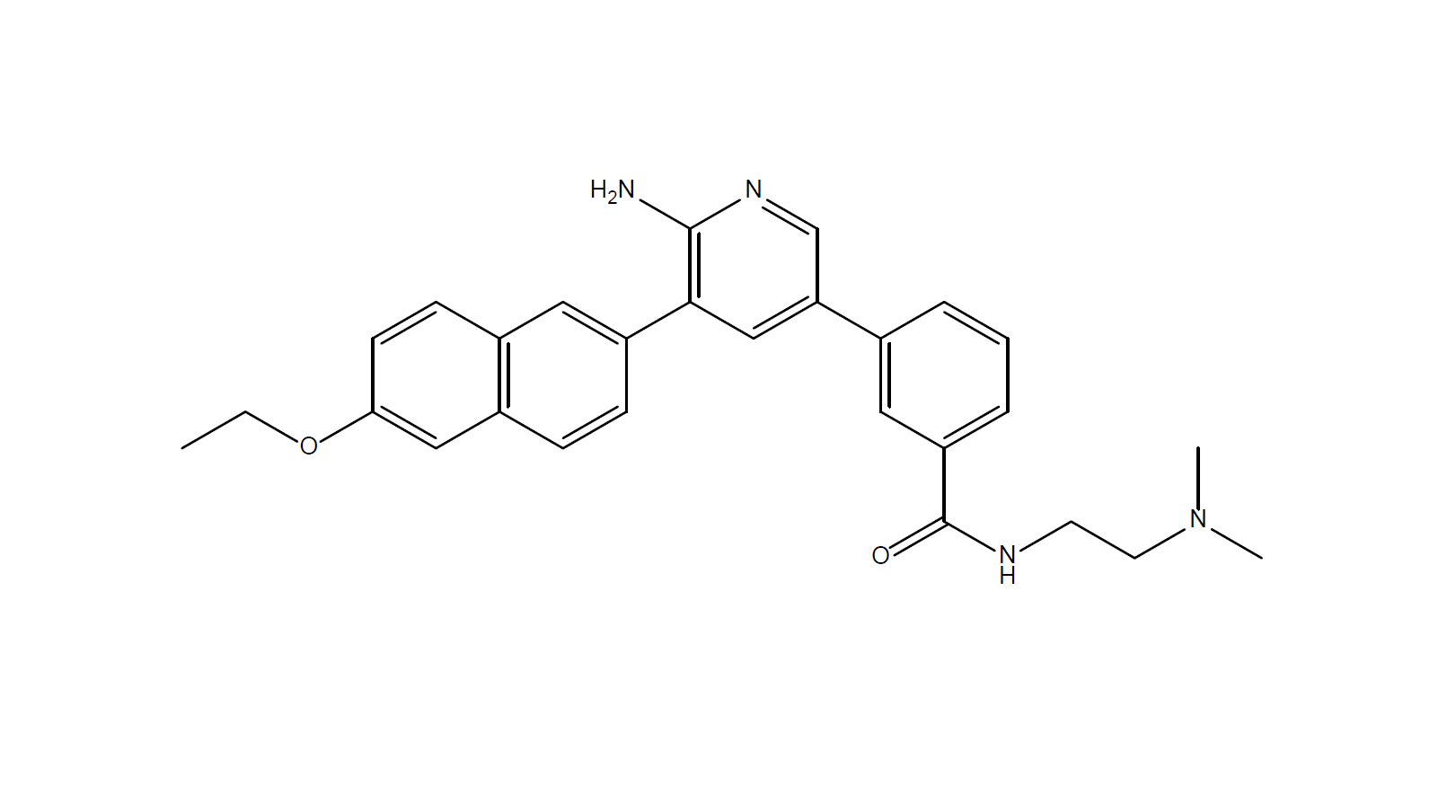 Contributor Information
Name

Mark Charles

Institute

Cancer Research Technology
Tool Details
Tool name:

Protein Kinase D inhibitor CRT5 (CRT0066051) Small Molecule (Tool Compound)

Molecular formula:

C28H30N4O2

Tool type:

Small molecules

Tool sub-type:

Inhibitor

Purpose:

Inhibitor

Application:

PLEASE NOTE THAT THIS COMPOUND IS TOXIC IN VIVO. CRT5 blocks phosphorylation of PKD1 on Ser916 and PKD2 on Ser876, but does not affect PKC-dependent PKD phosphorylation or PKD autophosphorylation.1 It also decreases VEGF-induced endothelial migration, proliferation, and tubulogenesis.

Description:

CRT5, a novel specific PKD inhibitor, will greatly facilitate the study of the role of PKD signalling mechanisms in angiogenesis. To better understand the role of PKD in VEGF-mediated endothelial function, we characterized the effects of a novel pyrazine benzamide PKD inhibitor CRT5 in HUVECs (human umbilical vein endothelial cells). The activity of the isoforms PKD1 and PKD2 were blocked by this inhibitor as indicated by reduced phosphorylation, at Ser916 and Ser876 respectively, after VEGF stimulation. The VEGF-induced phosphorylation of three PKD substrates, histone deacetylase 5, CREB (cAMP-response-element-binding protein) and HSP27 (heat-shock protein 27) at Ser82, was also inhibited by CRT5. In contrast, CRT6, an inactive analogue of CRT5, had no effect on PKD or HSP27 Ser82 phosphorylation. Furthermore, phosphorylation of HSP27 at Ser78, which occurs solely via the p38 MAPK (mitogen-activated protein kinase) pathway, was also unaffected by CRT5. In vitro kinase assays show that CRT5 did not significantly inhibit several PKC isoforms expressed in endothelial cells. CRT5 also decreased VEGFinduced endothelial migration, proliferation and tubulogenesis, similar to effects seen when the cells were transfected with PKD siRNA (small interfering RNA).

Research area:

Cell Signaling & Signal Transduction

Selectivity:

It has little effect on a panel of additional kinases when given at 1 ÂľM.

IC50:

IC50s = 1, 2, and 1.5 nM for PKD1, PKD2, and PKD3, respectively



For Research Use Only
Target Details
Primary target:

Protein Kinase D (PDK)
Application Details
Application:

PLEASE NOTE THAT THIS COMPOUND IS TOXIC IN VIVO. CRT5 blocks phosphorylation of PKD1 on Ser916 and PKD2 on Ser876, but does not affect PKC-dependent PKD phosphorylation or PKD autophosphorylation.1 It also decreases VEGF-induced endothelial migration, proliferation, and tubulogenesis.
Handling
Purity:

Solubility:

DMSO

Storage conditions:

Ambient in DMSO (12mM)

Shipping conditions:

Dry Ice
References
•

Sharlow et al. 2011. PLoS One. 6(10):e25134. PMID: 21998636. Evans et al. 2010. Biochem J. 429(3):565-72. PMID: 20497126.