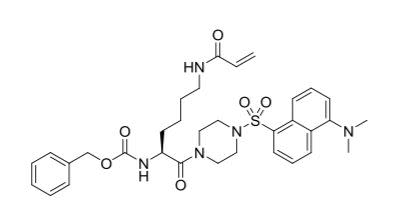 Contributor Information
Name

Jeffrey Keillor

Institute

University of Ottawa
Tool Details
Tool name:

VA4 - Tranglutaminase 2 Inhibitor small molecule (tool compound)

Alternate names:

VA4

Molecular formula:

C33H41N5O6S

Tool type:

Small molecules

Tool sub-type:

Inhibitor

Purpose:

Inhibitor

Cancer type:

Digestive / Gastrointestinal cancer

Molecular weight of the target:

635.77

Application:

Has been shown to block TG2 transamidation activity inside cancer stem cells (SCC13 cells) resulting in abolished transamidase activity. Inhibitor blocks EMT, invasion and kills cancer stem cells. In mesothiolioma cancer stem cells, inhibition of TG2 reduces migration (invasion), and appears to increase markers of apoptosis.

Description:

Transglutaminases are a family of enzymes that are responsible for mediating the formation of protein crosslinks of several diverse structural proteins (including fibronectin and collagen) through a transamidation reaction between peptide Gln and Lys residues. Tissue transglutaminase (TG2) is a member of this protein family, and is ubiquitously expressed in tissues, primarily found in the cytosol, but is also expressed in the nucleus, membranes, cell surface and extracellularly. TG2 is also able to adopt a compact, or closed conformation which results in minimal crosslinking activity but an increase in its GTP-binding function which affects several cellular signalling pathways. Unregulated transamidation activity is associated with diseases such as fibrosis, atherosclerosis, and celiac disease, while unregulated GTP-binding activity has been implicated with cancer cell proliferation, metastasis and aggressive tumours that are resistant to conventional therapeutic intervention. Studies have shown that TG2's GTP-binding activity is essential to the survival of several cancer cell lines, while its transamidation activity is not. VA4 is a targeted and irreversible covalent inhibitor of TG2 that locks the enzyme in its open' conformation in cells, abolishing its GTP-binding activity. In cellular tests, it has been shown to be selective for TG2 over other transglutaminases.

Research area:

Cancer

Selectivity:

TG2

IUPAC:

Benzyl (S)-(6-acrylamido-1-(4-((5-(dimethylamino)naphthalen-1-yl)sulfonyl)piperazin-1-yl)-1-oxohexan-2-yl)carbamate

CAS number:

2088001-23-2

Additional notes:

Patent: US20190389814, PCT/IB2017/052162



For Research Use Only
Target Details
Target molecular weight:

635.77

Primary target:

Tissue transglutaminase (TG2)
Application Details
Application:

Has been shown to block TG2 transamidation activity inside cancer stem cells (SCC13 cells) resulting in abolished transamidase activity. Inhibitor blocks EMT, invasion and kills cancer stem cells. In mesothiolioma cancer stem cells, inhibition of TG2 reduces migration (invasion), and appears to increase markers of apoptosis.
Handling
Purity:

635.77g/mol

Solubility:

Soluble in DMSO

Storage conditions:

Dry, dark and at 0 - 4°C for short term (days to weeks) or -20°C for long term (months to years). Aliquot to avoid freeze-thaw cycles. Lasts up to 3 years with proper storage

Shipping conditions:

Dry Ice
References
•

Akbar et al. 2017. J Med Chem. 60(18):7910-7927. PMID: 28858494.